During the pandemic, I thought it would be a good opportunity to share some information on ways we can look at the current impact on businesses, as well as ourselves. This blog article is based on a workshop session I delivered to a group of women in business, whose businesses have been affected by COVID-19.
One of the best resources, advice and guidance for small businesses and the self-employed is the Federation of Small Businesses. They have a full campaign on COVID-19 and are in constant contact with the government so their advice is always up to date. It's definitely worth a look if you're after any advice.
The UK government also have a dedicated section on its website for businesses and self-employed people.
As always, if any of the tips and ideas appeal to you, try them. If not, discard and move on! Everyone is different and no one-size-fits-all is possible.
We'll look at four different areas you can look at, if you feel you need to make adjustments to your current working situation.
1. Quick Audit
Firstly, consider your current working situation – where are you up to? And importantly, how do you feel? There seems to be a huge range of emotions of how people are coping – from not at all, to some people actually enjoying the quietness and change of pace.
I saw this tweet and it really resonated: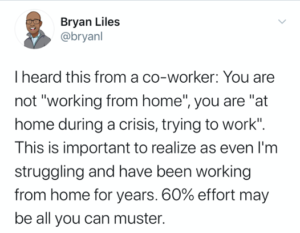 If you're working from home, you'll likely have had to shift your working conditions considerably.
Now might be a good time to reorganise how you move forward with your business on a temporary or permanent basis. We can create systems to do this.
2. Systems
A system is a framework, method or process of operation, i.e. how you can use tools to help run your business and hit your goals.
The key to creating good systems that work for you is finding out what tasks and jobs are essential so that you're not spreading yourself too thin and making sure that you do the right things at the right time.
"Essentialism Is The Disciplined Pursuit of Less."
Greg McKeown
By working out what is essential in your life and work, you can prioritise and create your systems. Putting yourself central to these will help prevent you from burning out. We are able to choose how we run our own businesses – we hold the power. Choosing you as a priority is crucial to your wellbeing and mental health. One book I've found to be an insightful revelation is In Essentialism: The Disciplined Pursuit of Less by Greg McKeown.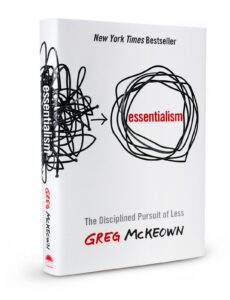 Procrastination interferes with creating systems, so if you're procrastinating, it's time to look at why you're stuck in a cycle of delaying your jobs or working practices. I know for me, I procrastinate heavily. I will delay things that I'm supposed to be doing in favour of something much more interesting, like drinking coffee and eating cake in the garden 🙂
Digital and analogue methods of implementing and organising systems include things like: Trello, Notion, Asana, using bullet journals, wall systems, brain dumping, Mind Mapping etc.
You build your own system depending on your own personal and business needs – you can then refine the process for progress. This could be as simple as using a system to deal with a messy workspace, for example.
Messy workspaces can impact energy levels and processes, just by having to work amongst 'stuff': this interferes with your flow by having too many superfluous objects in your line of sight. A goal would be to clean it. The system would be the method of how you tidy. If you're constantly finding your yourself in a messy space not long after tidying, this suggests your system needs refining. On my journey of minimalism, I've found this repeatedly. My tidying up systems weren't working, however, it wasn't the system that was failing, it was the sheer and obvious fact that I simply had too much stuff. By reducing the amount of stuff I owned, the system was then refined by making the tidying quicker and easier.
An example of adjusting a system in the workplace, for instance, is that during the pandemic and working from home, you might be experiencing things like your daily working life is becoming easily disrupted, tasks are being missed and your time management is all awry. There might be valid reasons for this, like having young children to teach from home.
You could start to tackle this by doing three things:
Working out exactly what is essential to your day. In Essentialism: The Disciplined Pursuit of Less, Greg McKeown says:
"This book is not about going back to some simpler time. It's not about eschewing email or disconnecting from the Web or living like a hermit. That would be backwards movement. It is about applying the principles of 'less but better' to how we live our lives now and in the future. That is innovation."
2. Use a daily planner/time diary to give yourself targets and help to manage your time
3. Keep a note of how your *actual* day went compared with the planned day.
After doing this for one week, reassess how your actual day v your planned day worked out. What are the differences? Can you reduce any tasks that weren't essential or improve on your process of planning your time?
Some wise words from Robin Sharma, about planning and task management:
"The things that get scheduled are the things that get done."
Robin Sharma
Resetting your systems is a great way to create good habits while working through this crisis and beyond.
3. Wellbeing
Arguably the most important section during such an unprecedented global health pandemic. How are you prioritising yourself during this time?
Scheduling you-time within your daily time management planning works for many people, especially time-starved women-in-business: self-care is crucial.
A few of my tried and tested methods of self-care:
Mindfulness
Meditation
Journalling – or Morning Pages, as coined by Julia Cameron in The Artist's Way – 3 A4 pages of handwritten blah-blah of whatever comes to mind, first thing in the morning. Every day.
Sleep – quality sleep helps us to improve physical and mental health; consolidates our memory; improves concentration, productivity and creativity along with improving immune function.
"Even a brief period of deep sleep, in other words, helps us make the kinds of new connections that allow us to better explore our world. In a nutshell, sleep is what allows us to operate at our highest level of contribution so that we can achieve more, in less time."
Greg McKeown – Essentialism: The Disciplined Pursuit of Less
Learning something new – SkillShare (get two months' free Premium with this link) is a great platform, as is Udemy.
Have a hot bath with some oils or salts.
Read – get lost in a different world for a while
Doing nothing! Seriously, it's a thing! Niksen is a Dutch word that translates as literally, "doing nothing" – a benefit in helping you reset and deal with challenging or stressful situation. The Italians also have a phrase for it: Dolce Far Niente which translates as "the sweetness of doing nothing" or pleasant idleness. It's lovely to do something (or nothing in this case) that actually has a name for it!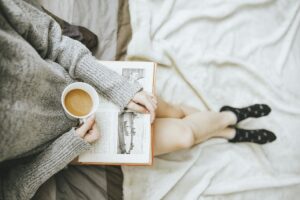 Photo by Anthony Tran on Unsplash
The International Committee of the Red Cross have concerns that the global pandemic may increase stress levels in people, exponentially. This is a good reason to consider your own stress levels and try to tackle any problems before they become a larger issue to deal with.
4. Social media
I'm an advocate for social media use that is both purposeful and positive.
It provides a great opportunity for small business owners to advertise their brand and ethos online, along with free PR if it's done correctly.
I'm not so much for personal social media use, aside from a private Instagram feed I have for family and friends only. I made the decision to stop using Facebook for personal interactions last year and I have not once regretted it. I had become so used to using the platform for campaigning purposes, I felt that it had drained the life out of me. By not using the platform, it has enabled me to enjoy quality friendships on a deeper level and ignore the day-to-day drama that seems to come with social media feeds.
Addiction issues
It's evident that many people have addiction issues with social media, especially younger users (although this is not exclusive) constantly checking for 'likes' and new posts. It's a recognised behavioural disorder. Longstreet & Brooks (2017) found that a pathological addiction to the internet, with a subset addiction of social media, drove individuals who have a lower life satisfaction to become more predisposed to social media addiction as a diversion from dissatisfaction with their lives. Likewise, people who had a high level of life satisfaction were less likely to become addicted to the internet and social media. Obviously, this isn't a direct causational link, but it does indeed indicate a relationship between life happiness and addiction.
This can interfere with everyday face-to-face interactions on a human level – we are social creatures, and whilst yes, social media is part of that, it's important to understand boundaries and privacy.
So use it to your comfort level!
Social for Business
On a business perspective, look for brands that have done good things during the pandemic and compare their output with those who haven't been as positive or helpful. Can you identify with their messaging techniques? It could be helpful for your own business messaging either now or in the future.
Twitter: too much? Set up a list. You can then prioritise your feed to only good news sources, friends/account who remain positive and upbeat, businesses that are doing great things and any accounts that are sharing quality content. Find out how to do it here.
Facebook: same. You don't have to be a scroller! If you have people on your timeline who are bringing you down or negative, you can unfollow them. You still stay friends, they can't see that you're not following them and your news feed will feel 'cleaner' and less intrusive to your mind.
Content
What about your social media feeds for your business? How do you usually operate them? You'll find the need to shift away from your usual style of content planning. There's even the argument that you shouldn't plan very far ahead with regards to scheduling posts due to the ever-changing media picture.
Have you got any evergreen content? Evergreen content is content that doesn't have an expiry date – the things that readers will always find interesting, whatever the media buzz is each day – it's things that you can reshare again and again. That could be an option for plugging any gaps you may have due to no/low work. Sharing memories, useful past posts/ideas etc are all ways of keeping your social media feeds buoyant during the pandemic.
Use social media purposely, to read and share sensibly without the overwhelm.
Hopefully, there's something of use in the above. I'd love to hear from you, on how you're managing your own business or person systems during this time.