It's a daily battle. Time management, that is. I honestly feel like a professional juggler some days, where I have a task spinning in one hand whilst weaving wordy magic with the other.
It all depends on how and where you work too. For the most, I work from a beautiful creaky antique writing bureau, nestled in the corner of a room overlooking our garden. It's fairly quiet, aside from the odd offspring meandering through to the kitchen on the hunt for biscuits or toast. Or a bouncing Springer Spaniel, demanding cuddles and/or food.
The Husband has his own garden office in a converted garage, where I used to work from. The co-sharing of a small space became claustrophobic after a while and I hastily retreated back to the house. He is currently busy designing me a She Shed so I can be totally immersed in my own space while I work.
So how do you maintain the work-life balance and maximise the use of your time if you're a freelancer or work from home?
Time Management
Here's my five top tips on how to stay on top of the day-to-day grind:
1. Clear Your Space
If your desk looks like a discombobulated shambles, it's time to clear out. Keep only the essentials you really need and ditch the clutter. It will make an enormous difference to your productivity and therefore your time management. In one study, scientists at Princeton University discovered that clutter within a workspace had a negative affect on the brain's ability to process, resulting in an increase in stress and disorganisation of thought.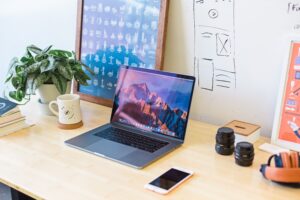 2. Schedule
Daily scheduling of my own time is really important to me. I plan a full week ahead with my diary. I also review daily for the following day, to prepare for any meetings, deadlines and client contact. Writing tasks down in a schedule commits them to paper, and they are more likely to be completed. Life coach Robin Sharma often says: "The things that get scheduled, are the things that get done." I agree! Get it scheduled and get it done.
3. Listmania
Do you like lists? I love them. I need lists in my life to keep me ordered. I even have lists to remind me where my other lists are (I really don't, but you can sense my need of listing-to-live!).
To-do lists are an incredibly mighty tool. They're not merely a simple scribbling on some paper. No, to-lists are a power-packed method of emptying your head onto paper, of all the tasks you need to do. Like Feng Shui for your bonce. Thus freeing up brain gigabytes for more taxing chores. Keep on top of your list though, and actually complete the tasks, rather than just adding to the bottom of list. Make your to-dos, ta-das.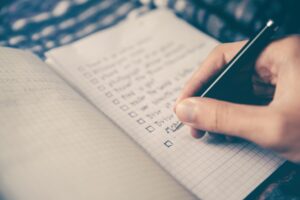 4. Social Media
As someone who spends a massive amount of time on social media for clients, I know only too well how time-sapping it can be. It can be tricky to use it for business purposes, without quickly getting drawn into posts and friends' trials and tribulations of life. But try! If you use social media for yourself or clients, use your time wisely and stick to your planned posting and activity, or you'll risk being sucked smack-bang into the middle of an 'OMG! U OK hon?!' style post.
5. Take Breaks
Move away from the screen, people! If you're sat in front of a computer for your job, you need regular screen breaks or your eyes may peel off. Obviously they really won't, but staring at a screen for any length of time is not good practice. Find out when your concentration levels start to wain and then move. Pop to the loo, do some yoga stretches, make a cup of tea..anything to break the brain-drain of protracted computer work.
And here endeth my tips for today.
Get in touch – I'd love to hear from you! Drop me a line at claire@write-type.com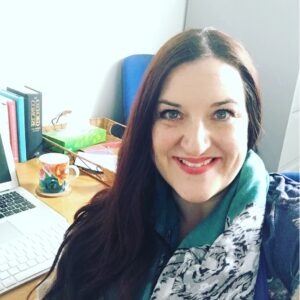 Claire is a writer, editor and proofreader, specialising in social media marketing, management and consultancy. She has over 15 years' experience in professional writing, with a wide client portfolio. Claire's passion is the written word, and helping you to communicate your company's message and story in the most effective and powerful way.
https://www.write-type.com/wp-content/uploads/2017/08/uros-jovicic-322314.jpg
4000
6000
Claire
https://www.write-type.com/wp-content/uploads/2020/10/The-Write-Type-7.png
Claire
2017-08-23 00:04:46
2017-08-23 08:24:20
Have You Got Time? Five Tips For The Freelancer